12′ Morris Reproduction
12′ Morris Reproduction:  $5,200 (closed gunwale construction as original) or $4,600 with open gunwales.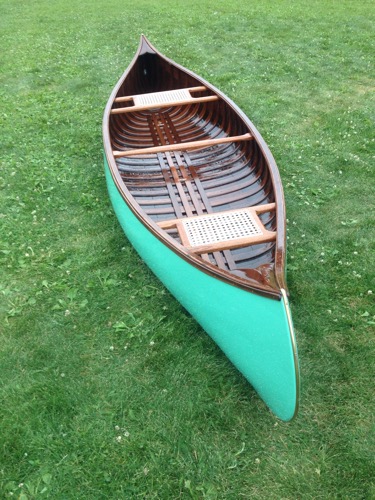 Length: 12′
Depth: 13″
Beam: max 35″, at rail 33″
Bow Height: 22″
Approximate Weight: 55 lbs
Most short canoes are rather wide and blunt. Not very pleasing to the eye, lacking the grace and style found in the longer hulls. We had never given much thought to producing one of these pack canoes until a friend brought a little 12′ Morris in for restoration. It didn't look like a typical stubby boat – the lines and proportions were in direct opposition to what my measuring tape was telling me.  It's a great little solo boat for an adult or a tandem for kids/little people.  It's a bit on the small side for two adults but it can be paddled tandem.  The Morris can be set up for tandem, solo, or rowing if you prefer.  It's a perfect boat for hanging on the wall and taking down for an early morning paddle: functional art if you will.
When we first laid eyes on the original; "It just doesn't look like a pack canoe, it's too pretty," I said.
To which my friend replied, "Did I mention it's the last known surviving 12′ Morris?"
"No… No you did not."  I knew then we would end up building it.  Reproductions of this Model B 12′ Morris can be built as original with the ribs notched into the inwales or with open gunwales for better drainage.
Here's the original, configured with bow and stern paddling seats plus a center bench for rowing: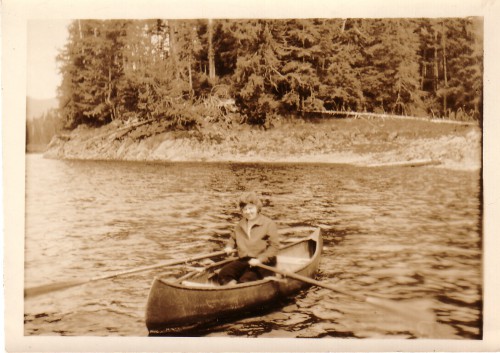 By the way, the original price of a 12′ Model B, type 1 Morris was $35 according to the 1908 catalog. These days that won't even cover the cost of the brass tacks used to fasten the hull.