Wood moves. It expands if moisture content increases and it contracts as it dries out. A strip-built canoe gets glassed inside and out effectively locking the wood core and sealing it from changes in moisture, stabilizing it. A traditional plank-on-rib canoe gets covered with a waterproof skin that is only attached at the stems and rails allowing the wooden hull to flex and move. The inside is coated with spar varnish which moves with the wood. Take all this and lock it in place with fiberglass on the outside and eventually you will end up with split and/or buckled planking.  In the picture below you can see plank edges and cracks that show through the fiberglass on a ten-year-old boat that gets limited use and is stored in a boat house.  Granted that boat house does nothing to protect against the temperatures of Maine's winters.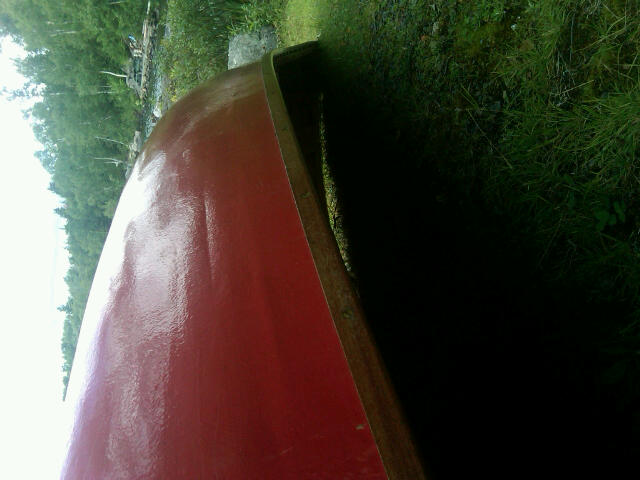 Old Town has offered their wooden canoes covered in canvas or fiberglass for years, my friend in Maine always uses glass, and many other builders use it. Some customers demand it either for durability or they want a clear covering. As long as they understand the limitations and trade-offs I'll glass a boat if I know it will work out for their intended use.
Hopefully this post and the image will work as intended – I'm in the heart of wooden canoe country with only a Blackberry for technical support.
Posted with WordPress for BlackBerry.