Click to enlarge:
Taped off the interior reinforcing plates which will carry the exterior color. The grab holes and lack of a defining edge posed a problem: where to transition from white to blue? The solution I came up with was to paint the overlays blue.
First coat – not to worry, it gets several more.
Second – better!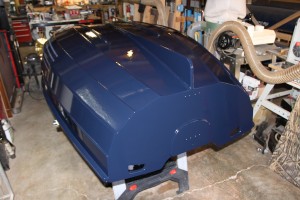 Third – told you it would cover!
Fourth – and looking fine. Since I have a bit of the blue left, I'm going to let these coats harden for a few days then wet-sand and do a fifth and final coat. Here's a couple more shots: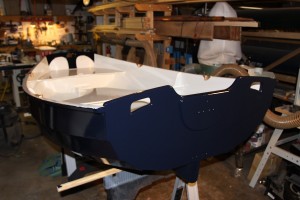 (The gunwales get covered with a padded guard so I didn't fuss with the color transition.)