Restoration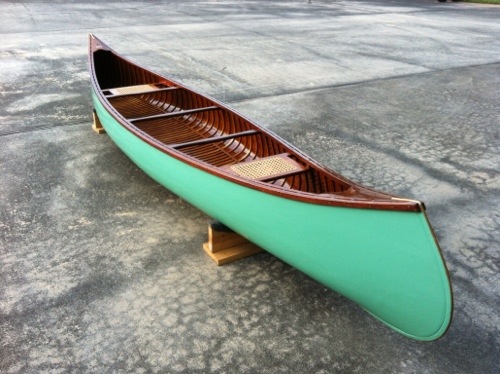 1950's Thompson
To view current and past restorations please go to the submenu in the sidebar.
"How much is my old wooden canoe worth?"(Notes from the WCHA that will help you answer the question.)
Repair or Restore?
There are two basic directions you can take with your classic canoe: repair or restore. Repairing a canoe is generally a minimalist approach to getting the boat back on the water but it can involve extensive work if the boat is in bad shape. Restoration involves returning the canoe to its original condition – parts that might otherwise be repaired get replaced. The beauty of wood canvas construction is that every component used to build the boat can be repaired or replaced as needed.
A restoration starts with a conversation – we'll discuss your canoe and make sure we both understand the ultimate goal. Each project represents a unique set of challenges.  What looks like a basket case to you might be a fairly simple repair and yet I've already had "needs a little work" eat up way more time and materials than expected.  I can't properly evaluate your canoe until I can inspect it personally. Detailed pictures will allow me to get a feel for what your canoe needs but any cost estimates discussed prior to the evaluation are just that: estimates.  Every effort will be made to accurately determine the scope of work required but often there are hidden issues that don't appear until after the canvas is off and the old finish stripped out. Any changes required will be discussed prior to proceeding with the work.
Your $300 deposit secures your slot in the lineup. We work on several canoes at a time to accommodate curing stages etc. but the restorations begin in the order in which they were accepted. Major rebuilds take far longer than simple recanvas jobs so the canoes may not necessarily exit in the same order they entered the shop. Please keep in mind this is far more art than science. A proper restoration is complete when it is finished and not before. Its success depends on many variables: weather, temperature, humidity, pollen, dust, and life's various obligations. To target a date is asking us to potentially cut corners and that is something we refuse to do. Most canoes throw a couple of surprises at us and each affects the entire pipeline of work.  With about two years of work in-house it is impossible and unfair to target a specific completion date.  Have faith that your canoe will be given the care it needs to return to its former self and we will keep you updated along the way. Major restorations will involve progress payments paid from invoices based on a percentage of the total.  All estimates, invoices, and payments are processed using QuickBooks to keep track of the details.  To summarize the restoration path, here's what will happen:
Discuss the needs and ultimate goal, submit deposit.
Once the canoe is in our hands we will evaluate it and submit a written estimate for your approval. We may remove the old canvas as part of the evaluation – this should not be interpreted as "they've started on my canoe!" It goes back on the rack to await its turn.
Once we've started on it you'll be notified and can follow the progress in the Shop Update section. Any adjustments necessary for hidden damage will be submitted for approval.  An invoice will be sent for a partial or progress payment at the start of the work.  For major restorations multiple progress payments may be billed.
Payment of the balance is due upon completion.
Cost of the restoration does not include any shipping charges unless specifically quoted. If you're not picking up your canoe we can arrange for delivery or contract with a hauler that specializes in getting paddle-craft delivered intact (very important)!
Restoration of a canoe rarely makes financial sense. Often the cost exceeds the market value unless the canoe is very old, rare, or both. If you are considering restoring a canoe for immediate financial gain, invest your money elsewhere for you are sure to be disappointed. On the other hand, if your canoe is a treasured family heirloom that you want to see put back right again, you've come to the right place.
Some more "after" images:
1960 Old Town 50 lb
1994 Cedar Island Cheemaun
The last known 12′ Morris fully restored
18′ Old Town Guide